Weston Rain Gutter Repair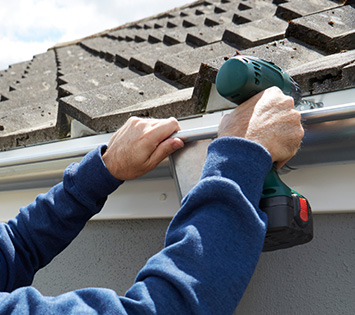 Are you looking for a rain gutter repair company in the Weston area? Then you need not look any further! Rain Gutters Solution is a Weston rain gutter repair company with more than a decade of experience servicing rain gutters all over South Florida. Our years of experience have given us the knowledge to carry out flawless Weston rain gutter repair jobs. Our customers have rated us the most reliable Weston rain gutter repair company in the area, so you can be sure we will do our best work on your property.
Did you know just one inch of rain leads to 500 gallons of rainwater runoff, on average? Imagine how much destruction that much rain can cause! According to the Associated General Contractors of America, the number one cause of damage to the foundation of a home is water leakage. To protect the foundation of your home or office building, it's important to make sure the rain gutters are functioning properly. Luckily, Rain Gutters Solution specializes in providing high quality Weston rain gutter repair.
Rain Gutter Repair in Weston Florida
With the help of our Weston rain gutter repair professionals, you can avoid the need for additional expenses in the future that may result from water damage. Since every aspect of your property is connected in some way, not dealing with a cracked or broken gutter as soon as possible by calling a Weston rain gutter repair company is almost certain to negatively impact other features of your home or building. For example, damage to your property's roof, siding, foundation, or landscape can all end up taking a turn for the worse.Don't wait another minute to protect your valuable investment. Call the leading Weston rain gutter repair experts today! Rain Gutters Solution can be reached by phone at (305) 270-7779 or, to schedule an appointment with our Weston rain gutter repair professionals online, please visit our
contact
page.