Aluminum Gutters

Do you want to install the best aluminum gutters? If you want to get durable aluminum gutters to protect your home during the rainy season, Rain Gutters Solution is ready to deliver. We have decades of experience and all the necessary resources to provide the best aluminum gutters in the industry so you can rest easy knowing that your home's foundations are protected.
When it comes to versatility and efficiency, nothing beats the power of aluminum gutters. These gutter systems can carry large amounts of water throughout the longest and most intense rainstorms. Moreover, seamless aluminum gutters can be customized to fit into the most complex layouts without losing stability or disrupting the structure they're attached to. All these traits make aluminum gutters the ideal solution for large properties where maintenance could be a problem, as well as for households where heavy rains can put the foundations/soil at risk.
Aluminum offers so many advantages that many people try their hand with homemade aluminum gutters, but the truth is that nothing beats a professional service if you're looking for a durable structure that stays in place for many years. With the assistance of a professional installation service, the process entailed in manufacturing and assembling your gutters will fall on expert hands, and you will count on the most advanced equipment to make your aluminum gutters stronger against clogs, dents, and damage.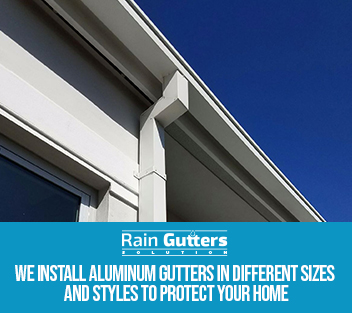 This is exactly what Rain Gutters Solution offers to help you protect your property with the most sophisticated rain guttering system. We install aluminum gutters in different sizes and styles to protect your home from leaks, spillage, and decay, keeping the rainwater running safely down your downspouts and away from your soil. We offer all the design options you can ask for and assist you with any repair you need to perform, so you can preserve your aluminum gutters well beyond their lifespan.
Best Aluminum Gutter in South Florida
Rainstorms are a constant occurrence in South Florida, making rain gutters an important asset for any home. Rain Gutters Solution has manufactured and installed aluminum gutters for countless households and businesses in the area. No matter your preference, our specialists always provide the highest quality and the most efficient installation services to make your gutters complement your property's structural requirements. We conduct the best installation, maintenance, and repair services to keep your aluminum gutters in perfect condition for decades to come.
You can ensure the best guttering system to protect your home's foundation. Call
(305) 270-7779
or fill out our website's
Contact
form to learn more about aluminum gutters and get started with the process right away. Rain Gutters Solution is here to help you make the best of your new aluminum gutters.