Residential Gutter Installation

Looking for a residential gutter installation service in Miami? You can get the best gutters to protect your household with Rain Gutters Solution. Our professional team has served hundreds of homeowners in South Florida, providing the most sophisticated rain gutters and ensuring the best long-term results with our specialized residential gutter installation options.
First, you need to know what goes into residential gutter installation. Professional residential gutter installation involves the construction of rain gutters on-site according to the specifications imposed by the property. These specifications can be adapted according to the roof's measurements, the materials that the house is made of, the surrounding flora, and other factors that your contractor will keep tabs on during the installation process. While some people opt out of hiring these professional services when it comes to residential gutter installation, a house's guttering system demands as much care and meticulousness as commercial gutters, despite being smaller overall. If your area's prone to rainstorms and sudden weather chances, the support of a professional installation company will give you peace of mind in the long run.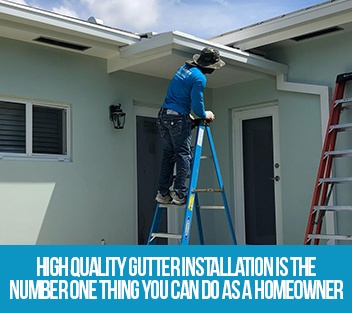 At Rain Gutters Solution, we understand the limitations posed by the local climate and adapt our residential gutter installation methods to the priorities set by the client. As a licensed company with decades of experience serving the people of South Florida, we guarantee the highest quality in all our results, including residential gutter installation and any other requirement you may have for the maintenance of your home's gutters. Residential gutters are meant to fit seamlessly into your house's structure, and the best rain guttering company can guarantee that outcome while saving you many expenses in terms of house repairs. You too can get everything you've envisioned for your home if you let Rain Gutters Solution manage your residential gutter installation process.
Best Residential Gutter Installers in South Florida
You deserve the best gutters to protect your home. With all the equipment, materials, and accessories needed to surpass your expectations, Rain Gutters Solution guarantees the best results when it comes to residential gutter installation. Instead of juggling different tasks while working through materials, measurements, and installation planning, you can save time and money while letting the most taxing parts of the process in the hands of professionals. You can trust Rain Gutters Solution for everything related to residential gutter installation, so stop waiting. Contact Rain Gutters Solution today and we'll give you more information on our residential gutter installation services.