Pinecrest Custom Rain Gutters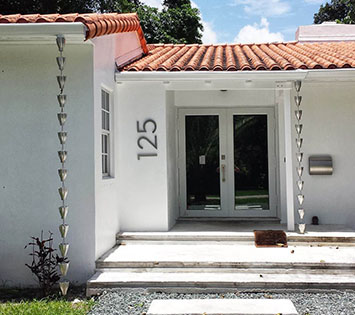 Looking for a Pinecrest Custom rain gutters company that can upgrade the look of your home or business? Then look no further! At Rain Gutters Solution, we are known for providing unparalleled Pinecrest Custom rain gutters. We offer a wide array of Pinecrest Custom rain gutters for both residential and commercial properties at a competitive price. With over twenty years of experience in the Pinecrest Custom rain gutters business in South Florida, we are sure to meet any of your rain gutter needs.We believe that nice-looking Custom Rain Gutters can add a special touch to your property by making it more appealing and protecting it from the damage water can cause to its foundation and beyond. A new custom-made rain gutter is certain to increase the net worth of your property! Not only will Pinecrest Custom Rain Gutters enhance the look of your property, they will also increase the lifespan of its surrounding features, such as wooden floors, walls, and the roof, by preventing water damage. You decide how your Pinecrest Custom Rain Gutters will be made by picking from the wide array of top quality materials we offer, such as aluminum, copper, or stainless steel. You can also pick the shape of your rain gutters so your Pinecrest Custom Rain Gutters can be a unique feature of your home or commercial building.
Custom Rain Gutters in Pinecrest Florida
If you want surprise your neighbors with an amazing custom rain gutter system, your best bet is hiring a respectable Pinecrest Custom rain gutters company! Contact us by calling (305) 270-7779 or clicking on the contact link to schedule an appointment with our Pinecrest Custom rain gutters specialists. We look forward to serving you!