Margate Rain Gutter Installation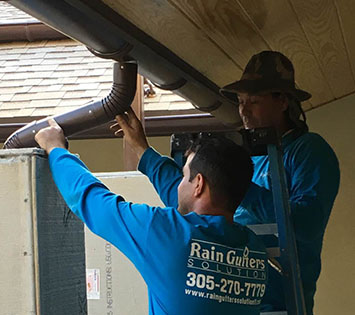 Looking for a Margate Rain gutter installation company to improve the look of your home or commercial building? If you answered yes, then you can stop looking. Rain Gutters Solution is a Margate Rain gutter installation company where top specialists use high quality materials. We offer you the best Margate Rain Gutter Installation services available in the area. We have over two decades of accumulated experience in the Margate Rain Gutter Installation business, serving residential and commercial customers alike.
We can carry out the most challenging rain gutter repair or unclogging job. Your Margate Rain Gutter Installation or maintenance will be a convenient solution, so your gutters are kept in mint condition and their lifespan is extended to the max.
We use a really hard-wearing material – Ethylene-vinyl Acetate (EVA) - which comes in 18 different colors. EVA can give your home or office a lovely, new look while safeguarding your property from inclement weather. These are some of the reasons people choose us as their Margate Rain Gutter Installation service providers.
Rain Gutter Installation in Margate Florida
OThe Miami Rain Gutter Installation services we provide are superior because we put our best effort into every job that we perform on homes and commercial buildings. Moreover, the quality of the materials we use makes our seamless gutters one of our best-selling products.If you want to give new life to the exterior of your house or commercial building, hiring a reliable Margate Rain gutter installation company is the way to go! Contact us directly by calling (305) 270-7779 or by clicking our contact link on our website to set up an appointment with our Margate Rain Gutter Installation experts. We look forward to serving you!