Hammocks Rain Gutter Installers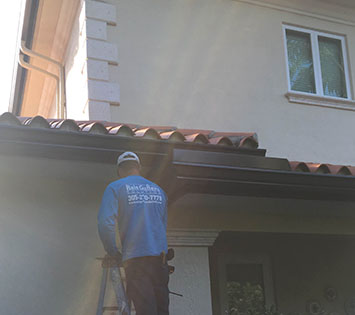 Looking for the best Hammocks Rain Gutter Installers South Florida has to offer? You've come to the right place!For most people, the most expensive purchase they'll ever make is their home. Accordingly, it's imperative for you to ensure you're keeping this valuable asset well-protected in every way possible, and our Hammocks Rain Gutter Installers can help.Rainfall in Hammocks can reach 60 inches per year or more. With such a high amount of rain, it is necessary to keep rain gutters well maintained in order to avoid water damage. The Hammocks Rain Gutter Installers at Rain Gutters Solution are just the people you need. We can help you prevent spending excessive amounts of money repairing water damage that is easily avoidable. How can you avoid water damage? Our experienced Hammocks Rain Gutter Installers are trained to be the best at their job, whether this requires installing new rain gutters or repairing or servicing old ones. Our reliable presence in the market and our satisfied customers can attest to the quality of our services.
Rain Gutter Installers in Hammocks Florida
We specialize in offering rain gutter cleaning, repairs, and custom rain gutter manufacturing that will fit the fašade of your home or office to a T. Our Hammocks Rain gutter installers will make sure that every detail is perfect!So, what are you waiting for? Start protecting you home from the effects of Miami's weather. We will be happy to discuss any questions or concerns you may have. Call us at (305) 270-7779 or click the image below to set up an appointment with our team of Hammocks Rain Gutter Installers.