Coconut Grove Rain Gutter Installation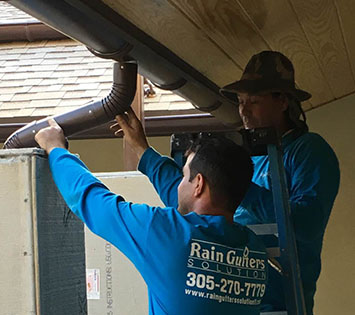 Looking for a Coconut Grove rain gutter installation company to enhance the look of your home or commercial building's exterior? You've come to the right place! Rain Gutters Solution has well-trained specialists and only uses high quality materials so you can rest assured your Coconut Grove rain gutter installation is in good hands. Rain Gutters Solution is a family-run business with over twenty years of experience working with rain gutters. We strive to make our customers' lives easier by offering the best Coconut Grove rain gutter installation services in South Florida for both residential and commercial buildings.At Rain Gutters Solution, we are able to flawlessly carry out both the Rain Gutter Installation for your Coconut Grove home or business, and the maintenance for your rain gutters when they need to be unclogged, cleaned, or repaired. Maintenance will make sure they are kept in good condition for a long time.
We use Ethylene-vinyl Acetate (EVA), an extremely durable material that comes in a variety of colors. EVA gives a pleasing, fresh look to properties and offers protection from weather damage at the same time. Our high quality products are one reason why we are the first choice when people look for Coconut Grove Rain Gutter Installation services.
Rain Gutter Installation in Coconut Grove Florida
We offer the most professional Rain Gutter Installation service in Coconut Grove. We take pride in making the lives of our customers easier by providing the best Rain Gutter Installation services in South Florida. As such, our seamless gutters have become one of our top-selling products, thanks to the combination of quality materials and our unparalleled work ethic.If you want to give new life to the exterior of your house or commercial building, hiring a reliable Coconut Grove Rain gutter installation company is the way to go! Contact us directly by calling (305) 270-7779 or by clicking our contact link on our website to set up an appointment with our Coconut Grove Rain Gutter Installation experts. We look forward to serving you!