Cape Coral Rain Gutter Repair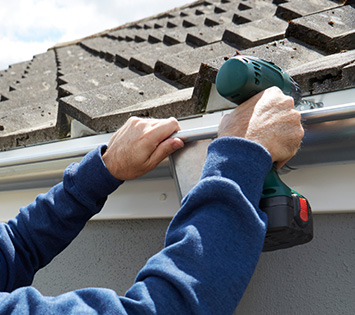 Need help from a Cape Coral rain gutter repair company? Rain Gutters Solution has the Cape Coral rain gutter repair professionals you've been looking for! For over twenty years, we've been providing happy customers in the South Florida area with the appropriate Cape Coral rain gutter repair required for the safety of their home or office building. Few other businesses in this industry are equipped with as much experience or knowledge as we are, so by choosing Rain Gutters Solution you can be sure your property is in good hands.Did you know that on average, one inch of rain is enough to generate 500 gallons of runoff? With that number, you can get a general idea of the amount of destruction rainwater is capable of. Statistics name water leakage as the main cause of foundation damage. Protect your home's foundation by checking that your rain gutters are working correctly. Rain Gutters Solution can help you out by providing excellent Cape Coral rain gutter repair services delivered by well-trained experts.
Rain Gutter Repair in Cape Coral Florida
With the help of our Cape Coral rain gutter repair professionals, you can avoid the need for additional expenses in the future that may result from water damage. Since every aspect of your property is connected in some way, not dealing with a cracked or broken gutter as soon as possible by calling a Cape Coral rain gutter repair company is almost certain to negatively impact other features of your home or building. For example, damage to your property's roof, siding, foundation, or landscape can all end up taking a turn for the worse.If you have found that there is a problem in your rain gutter system, you should contact a Cape Coral rain gutter repair company immediately. Once the problem is resolved, you can feel at ease knowing your property is properly taken care of.
Rain Gutters Solution is the Cape Coral rain gutter repair company of choice for many South Florida residents, so don't hesitate to call us if you have any questions or need a quote. You can call us at (305) 270-7779 or you can fill out this
contact
form to send us a message. We will get back at you as soon as possible.