Aventura Rain Gutter Installers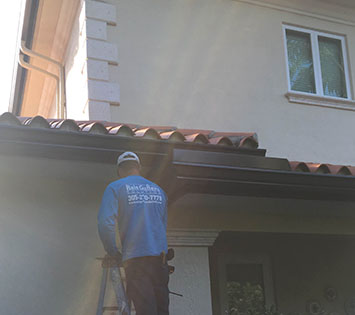 Looking for the best Aventura Rain Gutter Installers South Florida has to offer? You've come to the right place!For most people, the most expensive purchase they'll ever make is their home. Accordingly, it's imperative for you to ensure you're keeping this valuable asset well-protected in every way possible, and our Aventura Rain Gutter Installers can help.In one year alone, more than 60 inches of rain fall on Aventura, Florida. This can cause a number of problems for your home if it hasn't yet been serviced by our Aventura Rain Gutter Installers We don't want you to be burdened by the expensive costs required to repair your home after it has been damaged by roof leaks or other associated water damage issues. We also don't want you to have to replace your gutters again and again after having inexperienced Aventura Rain Gutter Installers provide this service incorrectly. You need a company that knows what they're doing and, with over 20 years of experience working with gutters, we're certain the Aventura Rain Gutter Installers at Rain Gutters Solution are the best experts for the job.
Rain Gutter Installers in Aventura Florida
In addition to being the preferred company for Aventura Rain Gutter Installers, Rain Gutters Solution also specializes in cleaning rain gutters, performing gutter repairs, and manufacturing custom rain gutters that will perfectly align with the specifications and various shapes unique to the exterior of your home.
If you want to protect your home from the catastrophic perils water damage can cause, you need to schedule an appointment with our Aventura Rain Gutter Installers right away! To contact our Aventura Rain Gutter Installers with any questions or concerns, Rain Gutters Solution can be reached by calling (305) 270-7779 or by visiting our
contact
page. The longer you wait to give us a call, the more at risk you are putting both your home and your landscape.