Doral Rain Gutter Installation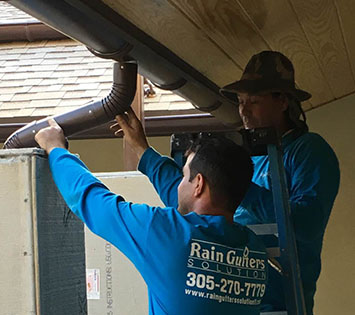 Looking for a Doral rain gutter installation company to enhance the look of your home or commercial building's exterior? You've come to the right place! Rain Gutters Solution has well-trained specialists and only uses high quality materials so you can rest assured your Doral rain gutter installation is in good hands. Rain Gutters Solution is a family-run business with over twenty years of experience working with rain gutters. We strive to make our customers' lives easier by offering the best Doral rain gutter installation services in South Florida for both residential and commercial buildings.We can carry out the most challenging rain gutter repair or unclogging job. Your Doral Rain Gutter Installation or maintenance will be a convenient solution, so your gutters are kept in mint condition and their lifespan is extended to the max.
We use a really hard-wearing material – Ethylene-vinyl Acetate (EVA) - which comes in 18 different colors. EVA can give your home or office a lovely, new look while safeguarding your property from inclement weather. These are some of the reasons people choose us as their Doral Rain Gutter Installation service providers.
Rain Gutter Installation in Doral Florida
Our Doral Rain Gutter Installation services are impeccable - we put our heart and soul into every installation we do on household and commercial buildings. Additionally, our top quality materials allow seamless gutters to be one of our business's top selling products.If you are looking for the best Doral Rain Gutter Installation provider, give us a call at (305) 270-7779 or fill out the contact form below to make an appointment. We look forward to hearing from you!