Commercial Rain Gutters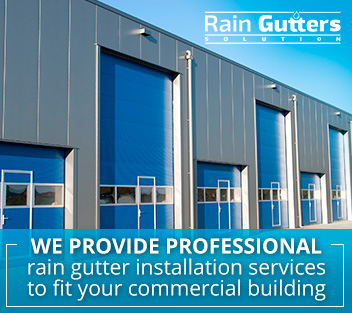 Do you want to protect your business against water damage caused by rain? The installation of commercial rain gutters is exactly what you need. Rain Gutters Solution offers you the best rain gutter installation and regular maintenance and repair services in South Florida to keep your commercial rain gutters unclogged, safe, and working properly.
Commercial rain gutters are necessary for any business, especially during the rainy season. Without this water collection system, rainwater will seep through the roof, the walls, or the basement, which can cause severe deterioration in your property like peeling paint, mold and mildew growth, or structural damage; these are all costly repairs that will reduce the value and the beauty of your commercial establishment. Fortunately, you can prevent this by installing commercial rain gutters that will direct the flow of the rainwater away from the foundations of your property.
Regular maintenance of commercial rain gutters is also essential to keep the water collection system working efferently. Over time – particularly if your establishment is surrounded by trees – leaves, debris, and twigs will start to build up and clog your commercial rain gutters, obstructing the channels where water runs and possibly causing serious harm to your property. To prevent this situation, hire a reputable company that can clean your commercial rain gutters periodically and also check for any damage that might need repair.
At Rain Gutters Solution, we install commercial rain gutters that will protect your property and won't ruin the esthetics of your business. We have several options of commercial rain gutters for you to decide which one looks best on your property. Call us at
(305) 270-7779
to know more about our installation, cleaning and repair services. If you want more information about commercial rain gutters, you can fill in the
contact
form on this website, we will gladly assist you!